Junior Teens: (ages 11-14)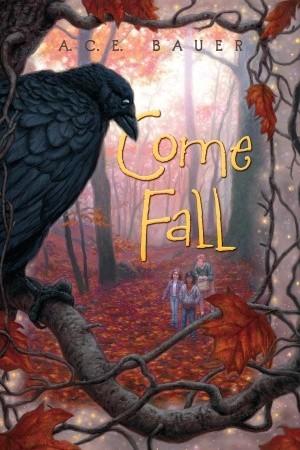 It's the start of a new school year, and three kids enter middle school with misgivings, not sure who they will meet or where they will fit in. Blos Pease is different from the other kids at school: he takes everything literally, and struggles to read social signals.
Lu Zimmer desperately wants to be a Designated Buddy, especially now that her best friend has moved away and she is excluded from the other cliques at school. Salman is dark-skinned, silent, and older than the other kids, adjusting in his cautious way to being an outsider in yet another school and foster home. His only companion is a crow, the secret friend of the ancient trickster Puck. Puck's king and queen are fighting again, and he is ordered to keep an eye on the three new friends. Beautifully written, blending dreamy fantasy and the very real world of middle-school, this story follows Lu's annoyance as the only girl in a family of brothers, Blos's struggle to understand bullying and his delight in a new camera, and Salman's relationship with his new foster parents and their huge garden. Loosely based on Shakespeare's A Midsummer Night's Dream, Come Fall explores the challenges of being an outsider, the desire to 'fit in', and the importance of belonging and friendship.
It is 1921, and 12-year-old Ruth is spending the summer with her mom at the University Toronto. While in Toronto, Ruth meets two very different people, both fighting, in their own way, for causes they believe in. Dr. Banting is deep in research for a cure for diabetes, and Mellisa Jones is an animal activist protesting cruelty to animals. Ruth loves animals, and her emotions are torn between admiration for Dr. Banting and Dr. Best, and horror that they would experiment on dogs. But everything changes when Ruth meets a girl her age, dying of Type 1 diabetes. Historically accurate and engaging, Eric Walter's Elixir is a thought-provoking read, exploring topics that are never quite black-and-white, and bringing to life the two legendary figures of Dr. Banting and Dr. Best.
The Two Princesses of Bramare
By Gail Carson Levine
This is the tale of two sisters, different in every way expect for their love for each other, and their interest in the legendary hero Drualt. Meryl, the eldest princess, is golden-haired, energetic, and fearless. She loves riding, sword fighting, and dreams of defeating monstrous ogres, gryphons, and dragons. Addie, on the other hand, is only twelve, and is dark-haired, timid, and shy. But it is Addie who must out-wit specters, defeat ogres, and escape dragons to save her beloved sister's life. Leaving the safety of the castle and the protection of her darling but cowardly king papa, Addie sets out to find the cure of the Grey Death in time to heal Meryl. Addie is forced to confront her own fears and learns, as all young adults eventually do, that life is full of bittersweet endings and exciting new beginnings, as well as unforeseen hope. Spurred on by stories of Drualt and encouraged by the young wizard Rhys, Addie not only lives the stuff of legends, but also discovers unexpected courage and strength within herself. In the style of fairy-tales and hero quests, The Two Princess of Bramare is a beautiful story of courage, perseverance, and sisterly love.
Senior Teens: (ages 15-19)
The Greenies
By Myra Paperny
World War II destroyed more than just countries: it tore apart families and changed forever the lives thousands of children. It is 1947, and hundreds of Jewish orphans are arriving in Canada to start new lives. Danny is 17, and after surviving the Buchenwald death camp, all he wants is to go to school and get a job. Like Danny, Lilli has endured atrocities in Auschwitz, and is nervous about living in Vancouver, especially once she meets her new 'family' and starts going to school. The handsome, bold Kurt, and short, enthusiastic Sylvie also bring the terrors of their past to Canada, but they shake off the fear easier than Danny and Lilli can. Max, the youngest of the orphans, is haunted by the ghosts of his past, and struggles to adjust to his new home in Vancouver. Marilyn is not pleased when she learns that Jewish orphans are joining her community, but as she gets to know these five teenagers, she discovers that maybe making new friends is better than living a 'normal' life. Confused, amused, and sometimes scared, these five greenies and their new friends learn about hockey, jell-O, and comic books, and struggle to leave their past behind and build a new life. The Greenies is a powerful, though-provoking, and sometimes heartbreaking book based on the real-life experiences of Jewish orphans in Canada.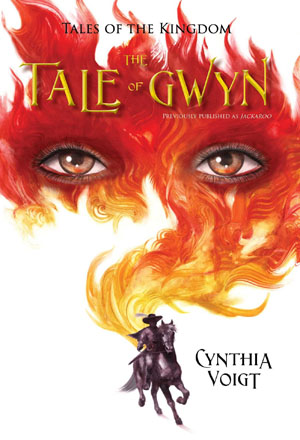 A Tale of Gwyn
By Cynthia Voigt
A Tale of the Kingdom
The Innkeeper's daughter is wild-haired and practical, but too strong willed to accept that she must get married, or that the inn will one day pass into the incapable hands of her spoiled little brother. Her father is a shrewd and capable man, and Gwyn has never gone cold or hungry, but there are few who could boast of such luxury. The people in The Kingdom are scared and angry, but they whisper that at times like these, Jackaroo appears to bring prosperity once again. Gwyn does not believe the legend of Jackaroo, but as more people suffer under the seemingly harsh hands of the Lords, Gwyn discovers that maybe Jackaroo does exist, and that his secrets are many. The Tale of Gwyn is beautifully written, from the first chapter enwrapping its readers in the medieval lifestyle and the mythical world of The Kingdom.