Junior Teens: (ages 11-14)
Dragon Castle
By Joseph Bruchac
Fantasy
Prince Rasko is pretty sure his parents are the dumbest people to ever rule a kingdom. Well, technically they aren't even "ruling" the kingdom anymore, as they were lured to fairyland, just when their country needed them most. Rasko's older brother, Paulek, with intelligence (or lack thereof) almost as impressive as his parents', welcomes the evil invaders with (apparently) open arms. Set in a fantasy Slovakia, Rasko must save the castle and the kingdom from the evil Baron Temny. While delving deep into the mysteries and intrigues at the castle, Rasko also explores legends of the ancient hero Pavol, whose fate is somehow connected with his own. Through his adventures, Rasko slowly discovers that maybe his family is not quite as clueless as they seem. Written in Joseph Bruchac's effortless prose, full of adventure, humour, and unexpected twists, Dragon Castle is a wonderfully adventurous medieval fantasy novel.
Pollyanna
By Eleanor H. Porter
Classic
When Miss Polly, a stern, middle-age spinster, learns that her orphaned niece is coming to live with her, she is not pleased. But, knowing it is her duty, she grudgingly welcomes cheerful little Pollyanna Whittier in her home. Pollyanna's father was a minster (pastor), and he once counted the number of times the Bible said "to rejoice and be glad", and found 800! Seeing as how important being glad was, he started "The Glad Game", where the players think of all the good and happy things in their life, especially at times of disappointment. Pollyanna's life is not always easy or pleasant at Aunt Polly's house, but with her thankful attitude and exuberance for life, she begins to not only change her own situation, but also the lives of those around her. Starting with the maid Nancy, then the invalid Mrs. Snow, grumpy bachelor Mr. Pendleton, and eventually Aunt Polly herself, Pollyanna's philosophy of life begins to transform attitudes of her friends and family. Written in the style of Luisa May Alcott, Francis Hodgeson Burnett, and Lucy Maud Montgomery, this delightful story shows the power of gratitude and the gift of good friends.
Link to free e-book: http://www.readcentral.com/book/Eleanor-H-Porter/Read-Pollyanna-Online
Another link: http://www.online-literature.com/eleanor-porter/pollyanna/
Senior Teens: (ages 15-19)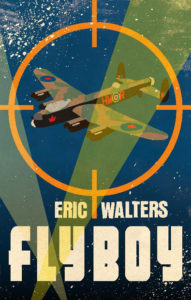 Fly Boy
By Eric Walters
Historical Fiction
World War II is sweeping across Europe, and Robbie McWilliams enlists in the Royal Canadian Air Force with the hopes of becoming a pilot like his dad. There is just one problem: Robbie is only 17, and baby-faced to boot! But with the help of a clever friend and his deceased brother's stolen identity, Robbie heads out to a training camp in Manitoba. Things change when Robbie's hopes for becoming a pilot are dashed as he is proven to be a talented navigator instead. But that is only one of challenges Robbie faces as he goes through training, travels to England, and joins a Lancaster crew, all while keeping up his façade. Life in the Air Force is both exciting and tragic, and Robbie settles into life amidst the rough and kind-hearted men, each with their own story, hopes, and fears. Robbie learns not only about navigation, piloting, and following orders, but about war superstition, immobilizing fear and how to deal with it, homesickness, death, and the camaraderie that forms from working together, and trusting each other with your life. Of all the World War II fiction I have read, this has to be my favourite by far. It is also a fantastic Canadian historical fiction read, and displays the best of Eric Walter's fast-paced and captivating writing.
Kate
By Valerie Sherrard
Modern Fiction
Kate, aged fourteen, has an incurable cancerous brain tumor, and so savors every bit of life she has left. Living in a small, close-knit community, and home from her final round of treatments, Kate journals about her daily experiences. She hangs out with her best friend, takes long walks around town and by the river, befriends the town's mysterious outcast, plays with her little brother, and falls in love with a boy down in the local jail. Learning surprising and wonderful things about her friends, the people around town, the character of God, and even her own parents, Kate's journal provides insight into human nature and what it is like to be on the verge of adulthood, but with the knowledge that one will never have the chance to grow up. Though the main character is only fourteen years old, I put this in Senior Teens, since the book deals with some heavy topics and there is quite a bit of kissing at the end (though not descriptive). Written by a Canadian foster parent for teens, Valerie Sherrard handles the weighty topic of death with lightness and humour, without taking away from the pain or fear of dying, or the significance of faith and love that develop as the end draws nearer for Kate. A simple and beautifully crafted novel, this story brings hope to the often-heartbreaking reality of cancer in our world.