Junior Teens: (ages 11-14)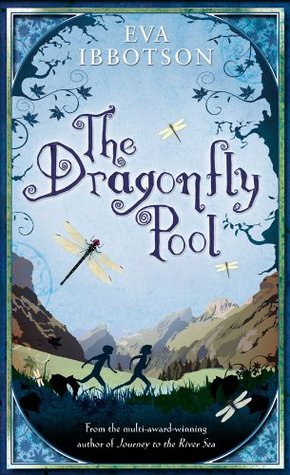 The Dragonfly Pool
By Eva Ibbotson
Historical Fiction
World War II is spreading discord across Europe, and in England, the tragic London Blitz finally convinces Dr. Hamilton to place his only daughter, Tally, safely out of danger in the country. Tally is not pleased at being sent away to boarding school, but Delderton Hall is nothing like she imagined, unusual and wonderfully unique, even for a "progressive" school. Tally is completely taken with the delightfully eccentric teachers and friendly students, and soon enough is fully at home (and yet still pleasantly surprised) at the odd class times, unusual subjects, and exciting adventures. One of these adventures involves a class trip for a dancing competition in the little European country of Bergania, where the King is preoccupied by his country's political instability, while his son, Prince Karil, is desperately lonely and dreams of another trip to the dragonfly pool. Set against the backdrop of WWII and full of enjoyable characters, engaging friendships, and even some adventure and mystery, this book is a beautifully written example of Eva Ibbotson's best work. Tally, Karil, and the other children, along with the teachers, undergo some difficult situations and are forced to face demons from both the past and the future while learning to rely on each other. And as for the secrets of love, loyalty and sacrifice? Well, they will be discovered once again at the dragonfly pool.
Senior Teens: (ages 15-19)
Emma
By Jane Austen
Classic
Emma is a young, rich heiress who has always had whatever her heart desires. She is pretty, clever, and is the center of attention among her loved friends and relatives, including her anxious father, her beloved governess Miss Taylor, and her brother-in-law Mr. Knightly. Despite being beautiful and rich, Emma has no interest in marrying (at least not while her elderly father needs her care), but instead delights herself with matchmaking. Involving the bachelor parish minister Mr. Elton, Emma's companion Harriet Smith, the newly returned and mysterious Miss Jane Fairfax, and the charming Frank Churchill, Emma's matchmaking seem to end in blunders of the most awkward nature. While this book is beautifully written and contains many fascinating characters (both likable and annoying), the real strength of the story lies in the character development of Emma. Spoiled, proud, stubborn, and yet undeniably good-hearted and cheerful, Emma is a very real character with very real struggles, and the growth she exhibits as the book goes on is both engaging and heart-warming. With the (sometimes unwelcome) help of Mr. Knightly, always there to open her eyes to her shortcomings with his blunt honesty, Emma is forced to face her own lack of judgement and foolishness through a series of uncomfortable events, and by these, comes to realize the real value of honesty, integrity, and love.