Junior Teens: (ages 11-14)
The Grimm Legacy
By Polly Shulman
Fantasy
Elizabeth needs a job, and to her delight, she gets one as a page at the New York Circulating Material Repository. This is a lending library, but not of books: patrons can take out an unbelievable range of objects both historical and fantastical. Elizabeth proves to be a hard worker, and soon enough she is introduced to the Grimm Collection, secret and very special group of objects straight out of the Brother Grimm's fairy tales. These magical objects hold a lot of power, and when they start disappearing, betrayal is suspected. Elizabeth and a group of new friends, including football player Marc, beautiful Anjali, and moody Aaron, work together to discover who has been stealing the objects. During their search they deal with many new experiences, both supernatural and not, including a shrinking machine, high school social dynamics, royal dolls, giant birds, and annoying little siblings. Full of adventure, mystery, and even a bit of romance, this is a delightful story that masterfully blends reality and fiction into something completely entertaining.
Upon the Head of the Goat
By Aranka Siegal
WWII Historical Fiction (Memoir)
It is 1939, and Aranka Davidovitch, known as Piri, leaves her family in Hungary to visit her grandmother in the Ukraine. Unexpectedly, the boarder between Hungary and the Ukraine is closed, and Piri is stranded with her grandmother for over a year. After living in relative peace on her grandmother's farm for so long, Piri's return to her family in Nazi Hungary is extremely difficult. From 1939 to 1944, Piri's mother has yet another baby, her father is taken away, their family business is given over to a non-Jew, and there is never enough food to go around. Piri's resourceful mother works hard to scrape together enough money to support the family, a courageous figure amidst all the fear and unknown for their family. The story is based on Aranka Siegal's real childhood, the first of three memoirs set in Hungary and the Ukraine during WWII and the post-war period. Written by a Jewish holocaust survivor, the story is historically accurate and contains heartbreaking details of what it was like to be a Jew at that time, but also the great bravery, resilience and love that enabled so many people to continue on.
Senior Teens: (ages 15-19)
Adam and Eve and Pinch Me
By Julie Johnston
Modern Canadian Fiction
Sara Moone, a foster child, is once again moving to a new home. She knows, from experience, that when you let yourself care about someone, you give them opportunity to hurt you. Sara has been abandoned and rejected too many times to risk forming any attachment to those at her new home. But she is unprepared for this family, where Ma talks nonstop, Hud farms with his solid reliability, and the two other foster kids, creepy Nick and crybaby Josh, drive Sara crazy. Writing helps Sara process her life, and so her journals are full of references to the old man who gathers ghost stories for his book, about the boy Matt who won't be deterred by her cold manner or stutter, about her kind-hearted social worker, or the mysterious woman who is looking for her long-lost daughter. As Sara begins to adjust to this unusual life, her new friendships threaten to break down all her walls and destroy her dream of a safe and unattached future, but at the same time, open up a new world much richer than she had ever expected. The complexity of characters, the beautiful writing, and the poignant content make this story both though provoking and a powerful reminder of the value of family and love.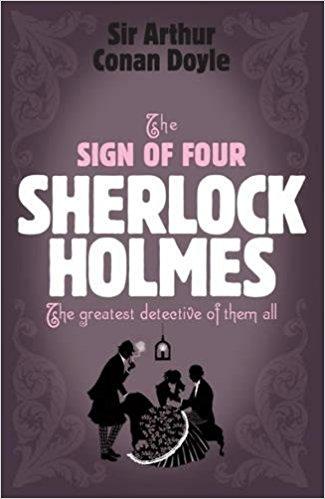 The Sign of the Four
By Sir Arthur Conan Doyle
Classic: A Sherlock Holmes Novel
It is 1888, and Mary Morstan approaches Sherlock Holmes and Dr. Watson with a fascinating mystery. Ten years earlier, her father, newly arrived home from India, disappeared suddenly and is assumed dead. A series of anonymous letters and gifts over the past number of years, culminating in a message asking for a meeting, induced Mary to appeal to Sherlock Holmes for help solving the mystery of the letters. As the second of the four original Sherlock Holmes novels, this murder mystery involves the eccentric character of Thaddeus Sholto, a search for hidden treasure, and a puzzling murder scene. Along with the classic, witty humour and brilliant deductions of all Sherlock stories, there is also an intense boat chase down the Thames, a one-legged man, and poison darts. Even for those who do not love mysteries, the adventure, friendship, and wonderful writing present in The Sign of the Four is sure to make it an enjoyable read. Written and set in late Victorian England, the story includes flashbacks from the Indian Rebellion in 1857, tales of convicts and betrayals, and of course, the beloved characters of Sherlock Holmes and Dr. Watson at their best.
Warnings:
This

is

a murder mystery. Multiple characters are killed through treachery, deliberate murder, or revenge. The key murder scene is described in detail, including bloody footprints.

The novel contains some racism, not surprising considering it was first published in Britain in 1890; best read when acknowledging the historical context and common views of the time.

Sherlock Holmes takes cocaine in the first chapter as a cure for boredom. Again, in its historical context, this is not surprising, but it can be alarming for modern readers.