Junior Teens: (ages 11-14)
Phoenix Rising
By Karen Hesse
Fiction
Thirteen-year-old Nyle lives with her grandmother on a sheep farm in the country, where she does chores, fights with the neighborhood bully Ripley, and hangs out with her friend Munice. But everything changes for Nyle and her community when there is an accident at a nearby nuclear power plant. Now Nyle's life is full of protective masks, evacuations, warnings, sick family members, misunderstandings, and worst of all, two radiation refugees hiding in Gran's back bedroom. Nyle is scared: that back bedroom is where people go to die! Her mom died there, and then her grandfather died there, and now this curly-haired teenager and his reserved mother are there, desperately sick and frightened. Despite her fear and the common misunderstanding that radiation sickness is contagious, Nyle hesitantly befriends Ezra Trent and his mother. By helping Ezra overcome his terror of radiation and come to grips with his father's sacrifice, Nyle also learns let go of her own fear and face that which she dreads most: the death of another friend. While the characters and events in this novel (including the disaster at the nuclear power plant), are fictional, the superstition, fear, and courage that the characters experience in the face of tragedy are very real in our world today. Nyle's heartbreaking story of fear and love is a powerful reminder that it takes courage to love someone, but that, like the phoenix, there is always new life rising out of the ashes.
Senior Teens: (ages 15-19)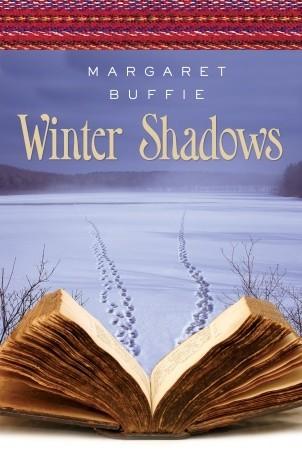 Winter Shadows
By Margaret Buffie
Canadian Historical Fiction
Christmas, for all its rich food and joyful atmosphere, can sometimes prove challenging, both relationally and emotionally. Two teenage girls, living in the same Canadian farmhouse but separated by over 100 years, are finding Christmas especially difficult this year. Still grieving for her mom who died of cancer, Cass cannot seem to get along with her controlling step mom and annoying little stepsister. Relations become more strained as Christmas nears, and on top of all nasty attitude and fighting at home, Cass starts seeing a mysterious, dark-haired girl. Beatrice is Metis, part Cree and part Scottish, and after receiving an offer of marriage from an eligible, if overly serious young man, she discovers that Christmas is proving more complicated than expected. Though she respects her father's decision to remarry, her stepmother Ivy's prejudice against the Cree people (like Beatrice's beloved grandmother), and jealousy of Beatrice threatens to smother any hope for a happy Christmas. On top of that, Ivy's son arrives from Scotland: large, enthusiastic, and full of controversial ideas, disrupting both the family's way of life and Beatrice's equanimity. As Beatrice writes in her diary about her internal struggle and the challenges of creating a beautiful Christmas celebration, Cass reads the entries and finds comfort in them, even while her own life spirals out of control. This masterfully written historical novel provides thoughtful insight into early Canadian communities, but more than that, it explores with delicacy the very real challenge of a Christmas season strained with complex relationships, difficult decisions, and the choice of whether to hold a grudge or to act with forgiveness and grace.