The season of snowflakes and sparkles has arrived!  Christmas is on its way and all of the festive planning has begun.  I love this time of year with all of the joy that it brings with decorating, baking and the gathering of family and friends.
For some of us, this time of year can be joyful but challenging with many stress-related emotions, long to-do lists, and deadlines.  One way to handle all of this is to pamper yourself.  We need to bring relaxation into our busy lives around this time of year; one way to do this is to enjoy laughter and joy with your friends while enjoying a Christmas Spa Party.  In the middle of preparing, decorating, baking and entertaining, consider hosting a Christmas Spa Party that will allow you to sit back and enjoy the special people in your life while being pampered.
Candle light, relaxing music, friends and family sets the perfect tone for a very special evening.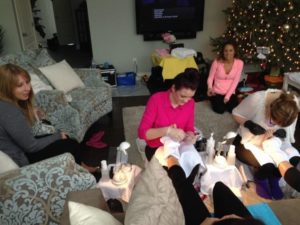 If you would like to host a spa party, here are some helpful tips to help you prepare:
How many guests will you invite?
Will you be offering manicures, pedicures or both?
Do you have relaxing music and candles to set the mood?
Will you offer appetizers and drinks?
What is needed?
An area for small tables to provide manicures;
A couch area for pedicures; and
Don't forget to protect your floors and furniture; accidents can happen!
How long should your Spa Party be?
For full manicures, you can expect 30 minutes per guest
For a full Pedicure you can expect 45 minutes – 60 minutes
Spa Parties can run from 2 – 4 hours depending on the number of guests and the type of services they would like to receive.
Massages & facials may also be included in the spa menu.
Spa Parties have been popular for a long time.  They are a great add-on to any event such as employee appreciation days, charity events, holiday party events and birthday parties or prom preparation parties for tweens and teens.
I would love to hear from you!  Please feel free to contact me at Beautybytraceylahey@gmail.com
Or visit my website www.beautybytracey.com