Beaumont-Hamel Newfoundland Memorial
While most Canadians celebrate July 1st as Canada Day, in Newfoundland and Labrador, the day is known as Memorial Day. July 1st serves as a day of remembrance for the Newfoundland Regiment's fight at Beaumont-Hamel during the First World War.
In the early morning of July 1, 1916, in northern France, the Battle of the Somme began. The Newfoundlanders, part of the 29th British Division, attacked from St. John's Road, a support trench. Due to the high number of casualties in the front line trenches, the Newfoundlanders had to advance over 200 meters of open land in order to reach the British front line.  As they were moving on the open battlefield, the Newfoundlanders were clearly visible to the Germans.  In less than a half hour, the brave men of the Newfoundland Regiment were nearly decimated by German fire.  Of the approximately 800 men who went forward, only 68 were able to answer roll call the next morning.  The unit suffered a casualty rate of nearly 80%.  
Following the Great War, five battlefield memorials were built in France and Belgium to commemorate Newfoundland's accomplishments, contributions and sacrifices during the war.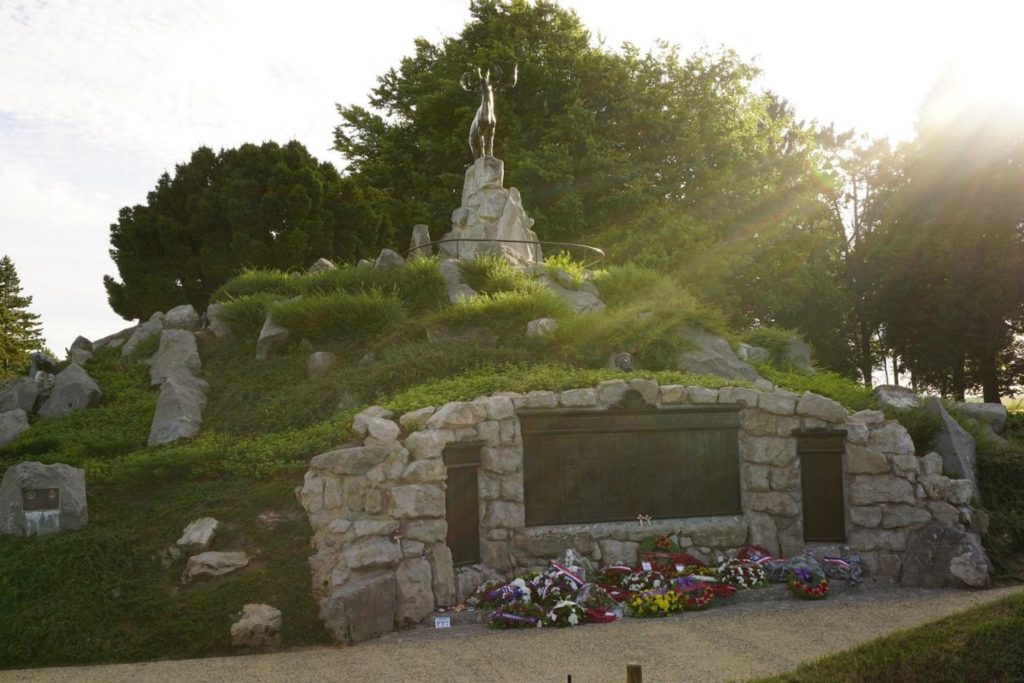 Unveiled in 1925, the bronze caribou, emblem of the Royal Newfoundland Regiment, stands overlooking the battlefield. At the base of the statue, three bronze plaques are inscribed with the names of the Newfoundlanders who died and have no known grave. Beaumont-Hamel is one of the best preserved trenched battlefields on the former Western Front.
Known informally as the Trail of the Caribou, these memorials mark the battles at  Masnières, Beaumont-Hamel, Gueudecourt, Monchy-le-Preux, all in France and Courtrai, Belgium.
It was a quiet summer evening when my family and I visited the Beaumont-Hamel Newfoundland Memorial.  By the time we arrived, the visitors were all gone and we walked the preserved battlefield alone.  Artillery craters and trenches scar the landscape and serve as a reminder of the sacrifices made so long ago. Reflecting on the enormity of human loss, it is a moment in time that we will always remember.