Time passes us by so quickly. In fact, it is hard to believe that Just Saying is only months away from its first anniversary. When this magazine started up less than a year ago, I had and still have many visions and dreams about it for both now and in the future. The people involved every month in creating the masterpiece that each of you read, are tremendously talented and gifted. I am in awe every time I read their articles, as they inspire me to new levels. Autonomously these individuals are motivated to make the world a better place, and collectively our voices stand strong and united with a mission driving us to change the world one person at a time.
Flowing from this creative and innovative spirit, The Women in Leadership Conference: Across the Generations, was birthed. It is an upcoming conference sponsored by Just Saying magazine. The first annual conference will be held on Saturday April 28, 2018 from 9:00 a.m. – 12:30 p.m. at the University of Ottawa, Lamoureux Building, 145 Jean-Jacques Lussier, Ottawa, Ontario. We would love it if you could join us for the event. For more information on how to register, see the information below, as well email cheryl@justsaying.today or check out our brochure on-line at www.justsaying.today. Share the information with family and friends by visiting our Facebook and Twitter pages. The links to these pages can be found on our website.
---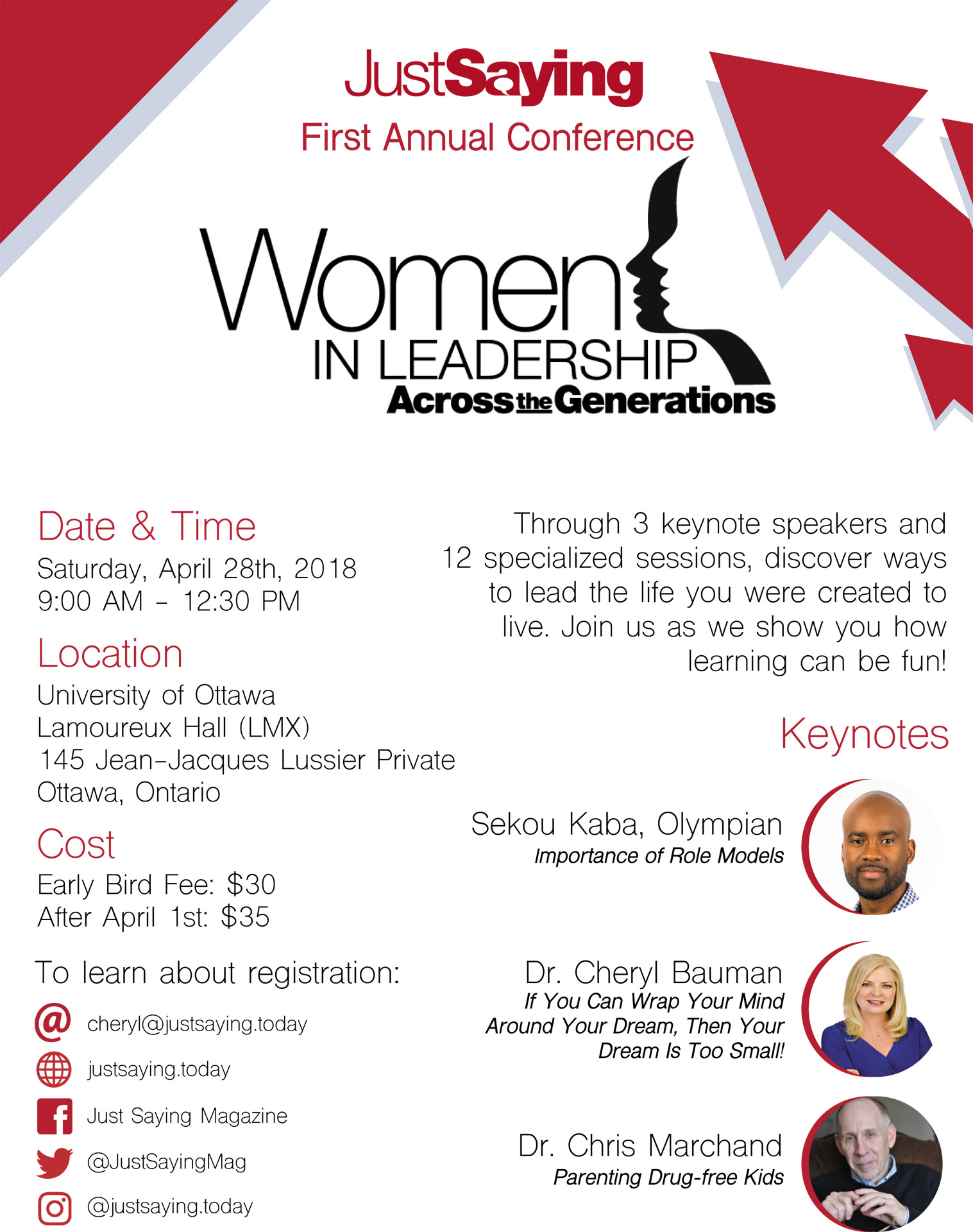 ---
A Saturday morning is a very short period of time for you to step away and explore topics of interest that you do not normally have the time to invest in. Some of the contributors of Just Saying will be presenters at the conference. Below is a list of who will present and what their topics will be on. The women who are presenting will share with you innovative insights on issues that will enlighten and uplift you. I guarantee, you will leave a changed person.
Coupled with the conference sessions that will be both informative and fun, we are also featuring 3 keynote speakers, as well as Tara Shannon, a local, national and international singer will be performing several songs. There will be door prizes and vendor tables. Invite a friend to come along with you, as neither of you will want to miss this spectacular annual event!
---