Skin Cancer is on the rise. Spray tanning is a healthy choice for tanning when you want to feel beautifully bronzed.  The natural sun and tanning beds can damage your skin.
Benefits of a Spray Tan:
Choose your desired level of darkness

Boost your self-confidence, feel fantastic, look radiant

Maintain a healthy, natural, golden glow

Accentuate your features and appear slimmer

Even out skin imperfections,  minimize the appearance of stretch marks & varicose veins

Perfect for special occasions, weddings, vacations, photo-shoots and performances
Frequently Asked Questions:
How does a sunless tan work?
The main ingredient for all self-tanning products is the dihydroxyacetone (DHA).
This ingredient creates a tanned appearance by developing a brown color on the epidermis layer of the skin.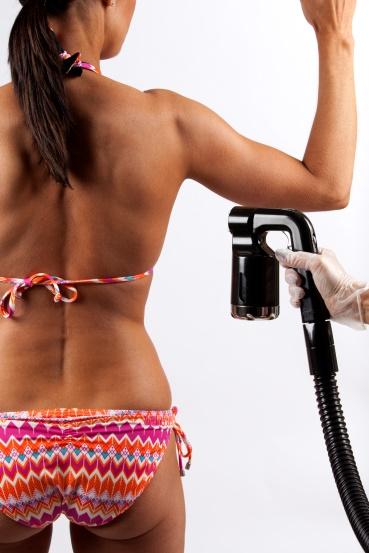 Will I turn orange?
This depends on the solution a spray tan specialist is using.  The top brand for tanning is Norvell professional and retail products. This is the spray tanning solution that I use on all my customers.   My clients are always happy with how instant and natural their tan looks right after the application.
High pH levels in the skin can sometimes give an individual an undesirable non- natural color of spray tan where then the orange coloring would come into effect.
It is recommended to spray a PH balancer on prior to spray tan applications.
How long does a spray tan last?
A professionally applied spray tan will last longer than a home application.
Typically 5 -7 days for a professional application and 3 – 5 days for a home self-tanning product.  Professional solutions have a greater percentage of DHA. Longevity depends on how your skin exfoliates. Usually by the 4th day your skin is starting to naturally exfoliate itself.  Applying moisturizer daily will also help with longevity.
Final Note
I hope that this article has been helpful. I pray that sharing some of my testimonial will be inspiring to you. God loves you so much and wants the very best for you. To read further about spray tans please visit my website www.beautybytracey.com