With Christmas fast approaching, our thoughts turn to gifts for the people we care about. The art of giving is truly an art form. Some people excel and enjoy the thrill of the hunt for the perfect item, (or the bargain) and then tick items off their list with relish. I have a limited tolerance for shopping malls. When I'm browsing for nothing in particular on a rainy Saturday, I can be quite content. Put me in a crowded, noisy mall in December with no real idea of what to get my loved ones and I am filled with dread and completely lose my focus. This is why I love to retreat to the peace and serenity of my kitchen to putter and create gifts of food that will hopefully be unique and gratefully received.
Now don't get me wrong, I like receiving gifts as much as the next person. However, some of the nicest gifts I've received have been homemade, or maybe I should call them heart-made- gifts from the heart. I remember my grandmother sewing us dresses and Barbie doll clothes, my dad putting his woodworking skills to use to fashion stools and quilt rails, and my mom gifting us framed watercolours she had painted. Chopped firewood and kindling or homegrown veggies or even homegrown flour have been presents that made my day. These gifts speak of the sharing of time, effort, love and sense of place. I also learned compassion and empathy, as gifts of baking were dropped off at homes of ill neighbors, or gifts of time or talent were shared with others in our community. Giving is a satisfying pleasure, whose reward is simply the smile on another's face. This Christmas, I'll be giving gifts from my kitchen and thinking about the recipients will bring a "smile" to my heart.
Pistachio, Praline and Cranberry Chocolate Bark
Ingredients
1- 300g bar of 70% dark chocolate (I used President's Choice)
½ cup of shelled, unsalted roasted pistachios
½ cup of granulated sugar
1 tbsp. water
½ cup dried cranberries
3 squares of white chocolate (optional)
Have a cookie sheet ready, lined with baking parchment. Chop the pistachios roughly and scatter in an area 8 or 9 inches round on the cookie sheet.
First make the praline: In a small heavy bottomed pot, put in sugar and water and slowly heat until it caramelizes and is a bubbling golden colour. (watch carefully so it doesn't burn, no need to stir)
When caramel is ready, pour it over the pistachios as evenly as possible, scraping the pot with a silicone scraper. Spread quickly to form a thin sheet. Let harden and then put in a bag and use a rolling pin to crush it into small pieces.
Melt the chocolate in a double boiler. Spread on the parchment (yes, we're reusing!) in a 12 x 8 rectangle (or smaller if you want thicker bark) and then sprinkle the cranberry and pistachio praline over it evenly. I also melted 3 squares of white chocolate and drizzled it over the top to finish. Chill in the fridge and then cut or break into small pieces and package for giving. It freezes and keeps in the fridge nicely as well.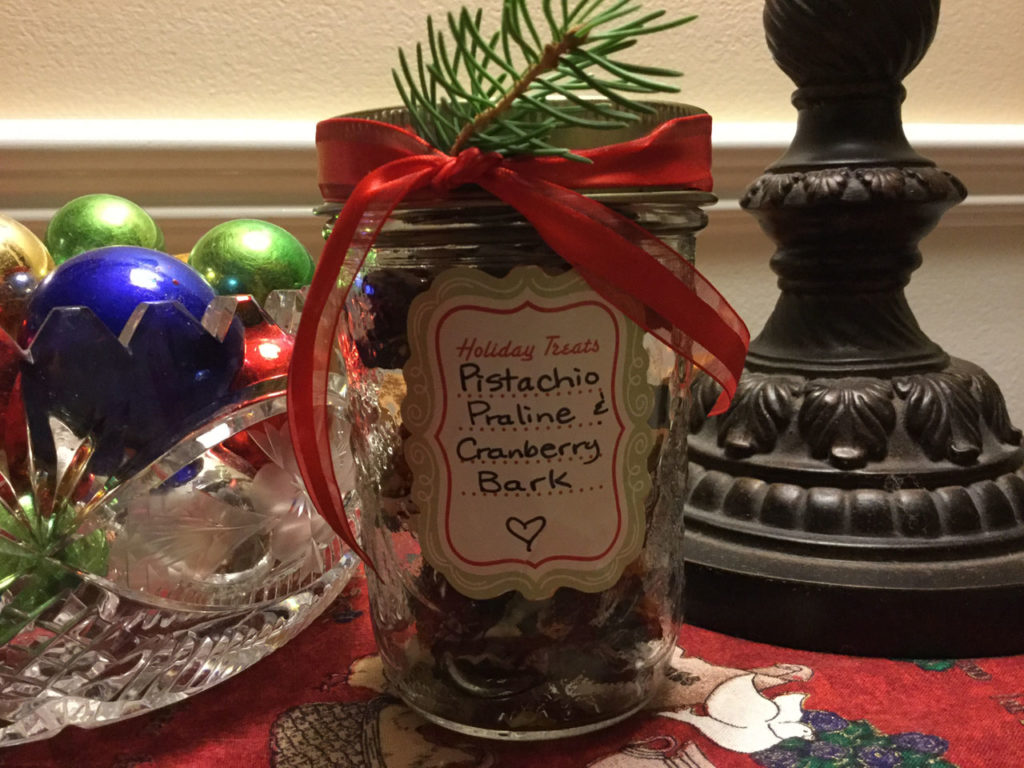 Orange Cranberry Tea Loaf
Ingredients
2 cups all-purpose flour
1 teaspoon baking soda
1/2 teaspoon salt
1 cup chopped cranberries, fresh or frozen but not thawed
1 large egg
1 cup packed brown sugar
1 cup buttermilk (or ½ yogurt and ½ milk)
1/3 cup canola or sunflower oil
1/3 cup canola or sunflower oil
2 Tablespoons orange zest
Orange Glaze:
1 cup (120g) confectioners' sugar
1-2 Tablespoons orange juice
zest from one small orange
Mix ¼ cup of the flour with the chopped cranberries and set aside. Combine remaining flour, salt and sofa and set aside. Cream oil and sugar in large bowl. Add in egg, vanilla, orange zest and buttermilk and mix well. Gently fold the flour mixture into the wet ingredients and combine. Finally, fold in the flour dusted cranberries just until evenly distributed. Divide batter between 1 large, 2 small or 3 mini loaf pans and bake until risen, golden and a toothpick inserted in the middle comes out clean. Baking temperature: 350 degrees.
Baking time will vary with pan size. 5×7" – 45 to 55 minutes.  5"x3"-about 30 to 35 minutes.
Let cool in pan on a wire rack.
Mix glaze ingredients and drizzle or brush over the loaf generously. Package for giving or freezing.