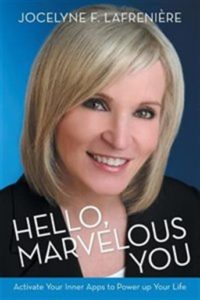 Hello, Marvelous You: Activate Your Inner Apps to Power Up Your Life
By Jocelyne F. Lafreniere
Contained within the book Hello, Marvelous You, by author Jocelyne F. Lafrenière, is a powerful message that will inspire you to activate your inner apps to actualize your marvelous nature. Jocelyne genuinely shares her knowledge, experience, and wisdom by providing you with strategies to triumph over challenges, and manifest an enriched and meaningful life. In this truly transparent book, you will learn to create the desires of your heart with good-feeling thoughts, a winning strategy, focused actions, and unwavering faith. With your inner apps turned on, your attitude, health, relations, finances, career, business, leisure time, environment, and legacy will be empowered with more abundance. This is a must read!
Jocelyne writes for Just Saying! I encourage all readers to get a copy, as it will transform your thinking.
You can purchase this book at: www.indigo.ca or www.amazon.com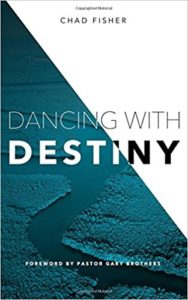 Dancing with Destiny
By: Chad Fisher
In this awe inspiring book, author Chad Fisher challenges us to a new view of Christ on the cross. As Jesus was dying on the cross, he stretched out his hands as an invitation to all. Chad discusses how Jesus beckons all of us like a prince stretching out His hand asking, "May I have this dance?" When we take Jesus' hand, accepting the dance, that's our first moment. Jesus, in all of His power and majesty, dances with us – every step, every slide, and every movement leading us to our destiny. Found written on the pages of the book is the chronicled life of Moses, from the day he was placed in the Nile river to the day he stretched out his staff and God parted the Red Sea. The author uses key stories from Moses' life to help us understand the importance of our moments; and how they lead us into our destiny. I encourage you to accept the invitation to Dance with Destiny. Chad Fisher helps you to better understand that your history is a series of past circumstances, often complex, shaping and defining you as an individual. Life happens moment by moment. Our moments with God lead us into our destiny. One moment leads to the next. It's like a dance. This is definitely a book you won't want to put down!
Author Chad Fisher writers for Just Saying! You can read his articles in the monthly edition of the magazine.
You can purchase this book at: www.indigo.ca or www.amazon.com
My Beloved Helen Keller
By Jonathan Kis-Lev
In a compelling, richly researched novel that draws from hundreds of letters, diary entries and original sources, Jonathan Kis-Lev tells the fascinating, untold story of the mentorship and friendship between Annie Sullivan and her pupil Helen Keller.
While blindness and deafness, financial strains, a failed love affair and inner struggles threaten to shape their world, the two women choose to redefine love and friendship, and subsequently to shape the history of education.
You can purchase this book at: www. indigo.ca or www.amazon.com
My Utmost for His Highest
By Oswald Chambers
The new release of the Classic Edition of the Best-Selling and Most Beloved Devotional Book of All Time!
You'll find 365 thought-provoking meditations in this classic-language paperback edition of "the golden book of Oswald Chambers." My Utmost for His Highest will encourage and move you to think more deeply about your relationship with the Lord.
My Utmost for His Highest has sold over 13 million copies worldwide and is considered one of the most popular religious books ever written. These captivating words of wisdom from Oswald Chambers have challenged and inspired readers for more than 80 years.
Oswald Chambers was a teacher and preacher whose messages cut to the heart of the gospel.  His wife, Biddy, transcribed his lectures and sermons and compiled them into books, the most popular being My Utmost for His Highest. The title is taken from a thought in one of his sermons: "Shut out every consideration and keep yourself before God for this one thing only—My Utmost for His Highest."
Chambers was a man completely devoted to Christ, and his life and writings clearly portray that. This daily devotional has inspired countless people to drink deeply from the biblical truths that Chambers so passionately championed.
You can purchase this book at: www.indigo.ca or www.amazon.com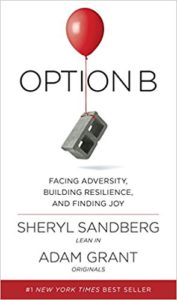 Option B: Facing Adversity, Building Resilience, and Finding Joy
By Sheryl Sandberg
This book is a #1 New York Times Best Seller written by Facebook's COO and Wharton's top-rated professor. It is a powerful, inspiring, and practical book about building resilience and moving forward after life's inevitable setbacks.
Option B combines Sheryl's personal insights with Adam's eye-opening research on finding strength in the face of adversity. Beginning with the gut-wrenching moment when she finds her husband, Dave Goldberg, collapsed on a gym floor, Sheryl opens up her heart—and her journal—to describe the acute grief and isolation she felt in the wake of his death. But Option B goes beyond Sheryl's loss to explore how a broad range of people have overcome hardships including illness, job loss, sexual assault, natural disasters, and the violence of war. Their stories reveal the capacity of the human spirit to persevere . . . and to rediscover joy.
Resilience comes from deep within us and from support outside us. Even after the most devastating events, it is possible to grow by finding deeper meaning and gaining greater appreciation in our lives. Option B illuminates how to help others in crisis, develop compassion for ourselves, raise strong children, and create resilient families, communities, and workplaces. Many of these lessons can be applied to everyday struggles, allowing us to brave whatever lies ahead.
You can purchase this book at: www.indigo.ca or www.amazon.com