Built on the highest point of the escarpment, the Canadian Memorial of Vimy Ridge serves as a tribute to all Canadians who fought, in France, during the First World War and whose graves are unknown.
Canadian involvement, in the fight at Vimy Ridge, was part of a greater offensive known as the Battle of Arras. The strategic planning and cohesiveness of the Canadian Corps proved to be critical in the success of the battle. For the first time, during the war, all four Canadian divisions fought together.  The first day of the attack, April 9th, was a miserable day with rain, sleet and even snow.  Even though the weather favoured the Canadians, as it was in the face of the German forces, April 9th was one of the bloodiest days of the war for the Canadian Corps. Despite their tremendous losses, nearly 4,000 Canadian men dead and another 7,000 wounded, all four divisions achieved their objectives.  The capture of Vimy boosted morale and established Canada's reputation as a fighting force.
Following the war, Canada and its families mourned the loss of many young lives and held a deep desire to honour those who served.  In early 1919, sites of Canadian engagements were identified in order to recognize them with memorials. Unveiled in 1936, the Canadian Memorial of Vimy Ridge became the centrepiece of a 100-hectare preserved battlefield.  Today, the memorial is one of only two Canadian National Historic Sites overseas; the other is Beaumont-Hamel Newfoundland Memorial, also located in France.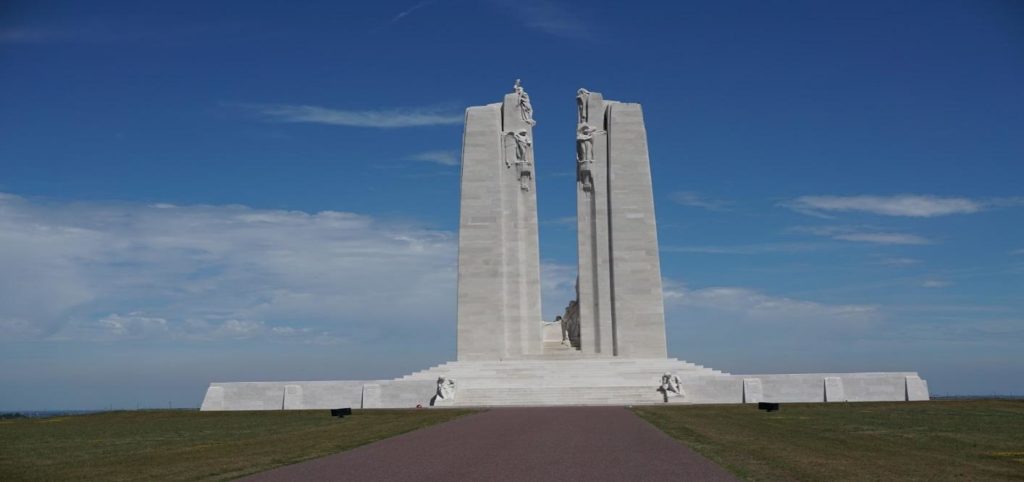 Built from 1922 to 1936, the memorial commemorates Canadian soldiers who died in France during the entire First World War and who have no known grave.  20 sculpted symbolic figures, each carved from limestone, represent values such as justice, peace, honour and hope.
Carved on the walls of the limestone base are the names of over 11,000 Canadian soldiers who were killed in France during the Great War, 1914-1918.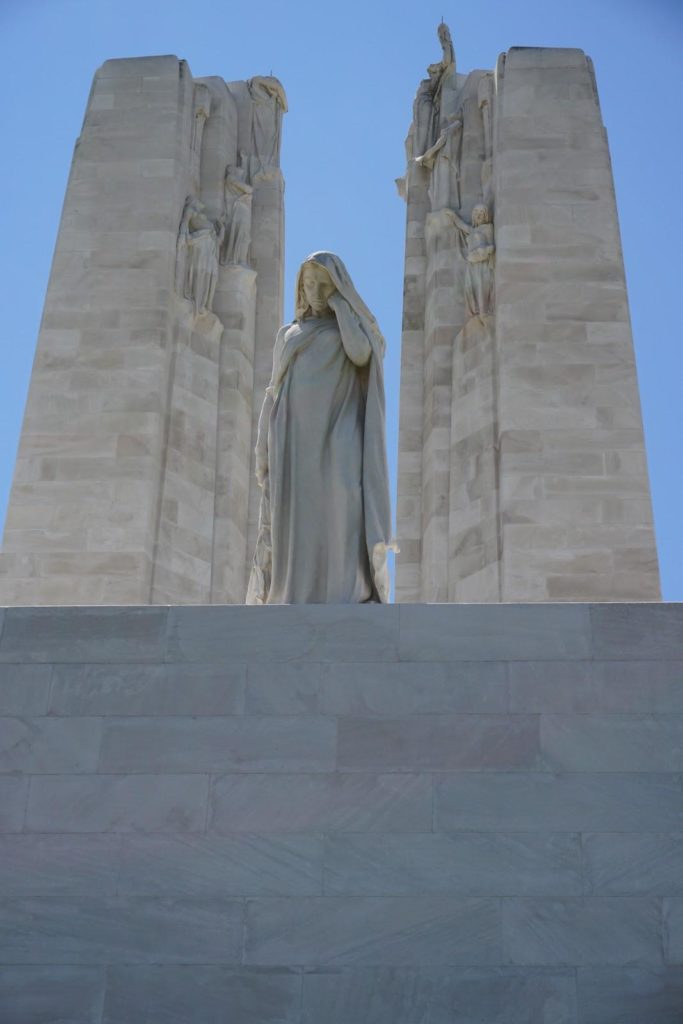 With her head bowed in sorrow, the mourning figure is known as Canada Bereft.  Being the largest figure, she represents a young nation grieving for her dead.
Overlooking the Douai Plain, Canada Bereft  gazes down upon a symbolic tomb which bears a helmet and sword.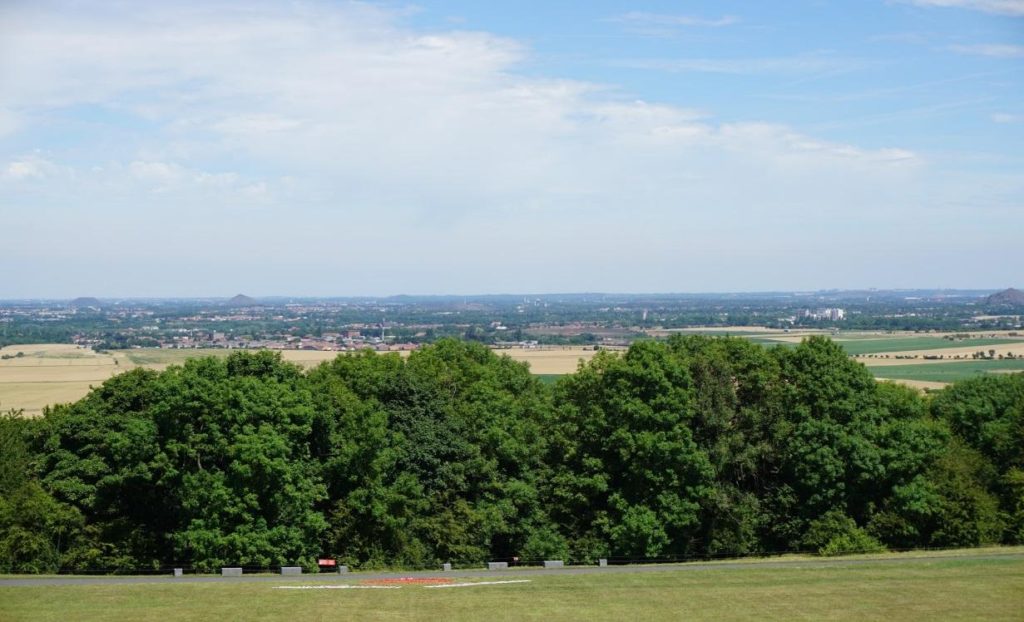 The Douai Plain: The site encompasses part of the ground over which the Canadian Corps made their attack in the Battle of Vimy Ridge.  The battlefield includes ground over which the Canadian Corps attacked, preserved trenches, as well as other memorials and cemeteries. Fenced areas with warning signs reminds visitors of the dangers of unexploded munitions.
A hundred years later, my family and I sat on the memorial gazing down the ridge. In quiet contemplation, I imagined the carnage and horror of those days so long ago. I felt a deep sense of sorrow, but at the same time a tremendous sense of pride to be a Canadian.